In loving memory of

James Evret Fitzgerald
Evret was the first child of eight born to Robert and Mary Fitzgerald (nee Cunningham) on 25 Nov 1895 on farm on RR#3, Thorndale, near London, Ontario. This brown – eyed, brown haired, handsome, humble young man was loved by his seven brothers and sisters, and dearly missed on the farm by his parents, and was in his graduating year at the school of Veterinary Science at the Ontario Agriculture College, Guelph, Ontario, Canada, when on 15 March 1915 he enlistend in the 38th Battalion. He later transferred tot he 1st Guelph University Coy, PPCLI, tob e with his SW Ontario schoolmates. Standing 5 feet 11 inches, he qualified tob e in the Grenadier Coy, PPLCI.

Evret was shot in the head by a sniper on 8 May 1916 while gallantly performing his duty as a grenadier iin the forward positions. He lay unconscious for three days succumbing to his wounds on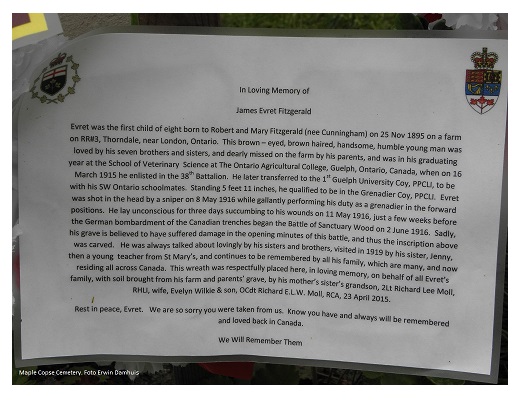 11 May 1916, just a few weeks before the German bombardment of the Canadian trenches began the battle of Santuary Wood on 2 June 1916. Sadly, his grave is believed to have suffered damage in the opening minutes of thes battle, and thus the inscription above was carved. He was always talked about lovingly by his sisters and brothers, visited in 1919 by his sister, Jenny, then a young teacher from St. Mary's, and continues the be remembered by all his family, which are many, and now reside=ing alla cross Canada. This wreath was respectfully placed here, in loving memory, on behalf of all Evret's family, with soil brought from his farm and parents' grave, by his mother's sister's grandson, 2Lt Richard Lee Moll, RHLI, wife, Evelyn Wilkie & Son, OCdt Richard E.L.W. Moll, RCA, 23 April 2015.
Rest in peace, Evret. We are so sorry you were taken from us. Know you have and always will be remembered and loved back in Canada.
We will remember them.
erwin_damhuis
Twitter